ZenPlanner Review (Overview, Pricing, and Features)
[ad_1]

Get the Basics…
Zen Planner is a Colorado-based company whose software is used by over 5,500 gyms, yoga studios, martial arts schools, and Crossfit boxes
While a touted feature of Zen Planner's platform, its mobile apps are its greatest weakness.
If you decide Zen Planner is right for you, after subscribing they'll provide three onboarding sessions in which a support team member will guide you via video chat and screen sharing through the process of setting up the software to match your gym's needs
As an owner of a gym or studio, one of your earliest and most vital decisions will be selecting the right management software to suit your particular business. You and your clients will interact with the software every day.
Having the features you need to do business according to your vision and the reliability to operate smoothly are big concerns. After all, you started this business out of a love for fitness, not complicated backend management!
To help you in this important choice, this review will comprehensively cover one of the major players in the market of gym management software, Zen Planner.
Company Overview
Zen Planner is a Colorado-based company whose software is used by over 5,500 gyms, yoga studios, martial arts schools, and Crossfit boxes. The company, founded in 2006, has grown rapidly since 2017 when it was acquired by Daxco, one of the premier providers of large-scale facility management software for multi-location health clubs.
Zen Planner represents an option best suited to small businesses. While it provides the capability to set up linked accounts for management of multiple locations, it is primarily designed to serve single locations with membership bases fewer than 250 clients.
As a web-based platform, not requiring software to be installed or data to be saved to any of the subscriber's devices, Zen Planner is highly mobile and accessible.
Additionally, Zen Planner has an "A" rating from the Better Business Bureau and has received local and national awards as a highly rated employer, most notably Outside Magazine's Best Places to Work 2013-2018.
Features Overview
Zen Planner boasts a long list of features from the basic, universally used member check-in to specialty functions like skill and rank belt tracking for martial arts studios. In this section, I'll detail the benefits and, just as importantly, the downside of each feature. Let's dig into everything you can do:
– Web & Smartphone Apps
While a touted feature of Zen Planner's platform, its mobile apps are its greatest weakness.
While gym owners will find some limited convenience in the ability to quickly add a membership or change a client's saved payment information, the Zen Planner Staff App and Zen Planner Member App seem to have been created as an obligatory afterthought rather than the mainstay they could potentially be.
Beginning with the Staff App, its benefits are the ability to easily check-in clients for classes/appointments, to change their payment method on file, and to process overdue payments. The last of these benefits actually reveals the app's glaring weakness: the inability to process on-time payments. Here's the concern:
If the developers troubled to include payment processing functionality in order to take overdue payments, why not allow users to utilize that ability at any other time? To demonstrate the problem, imagine your client, not on automatic draft, wishes to pay their monthly dues in person.
As a staff member utilizing this app, you are unable to input the payment unless it is already late and an alert has appeared on the member's profile.
While there is always the option of opening the software on your desktop computer and utilizing the full version to complete the transaction, it begs the question, "if there is an app that can process payments, why must I go to this trouble?".
Continuing on to the Member App, while its claimed benefits are that it allows members to view schedules, reserve classes, and make payments, for a lot of gym members it is an experience that will end in frustration. Member App users overwhelmingly report problems with the app failing to load or crashing so frequently as to render the app practically unusable.
Zen Planner's apps currently lack customization options like branding with the name, colors, or logo of the gym. Until Zen Planner completes a major overhaul of them, it is actually probably best that way for gym owners who don't care to have their business associated with such poorly rated apps: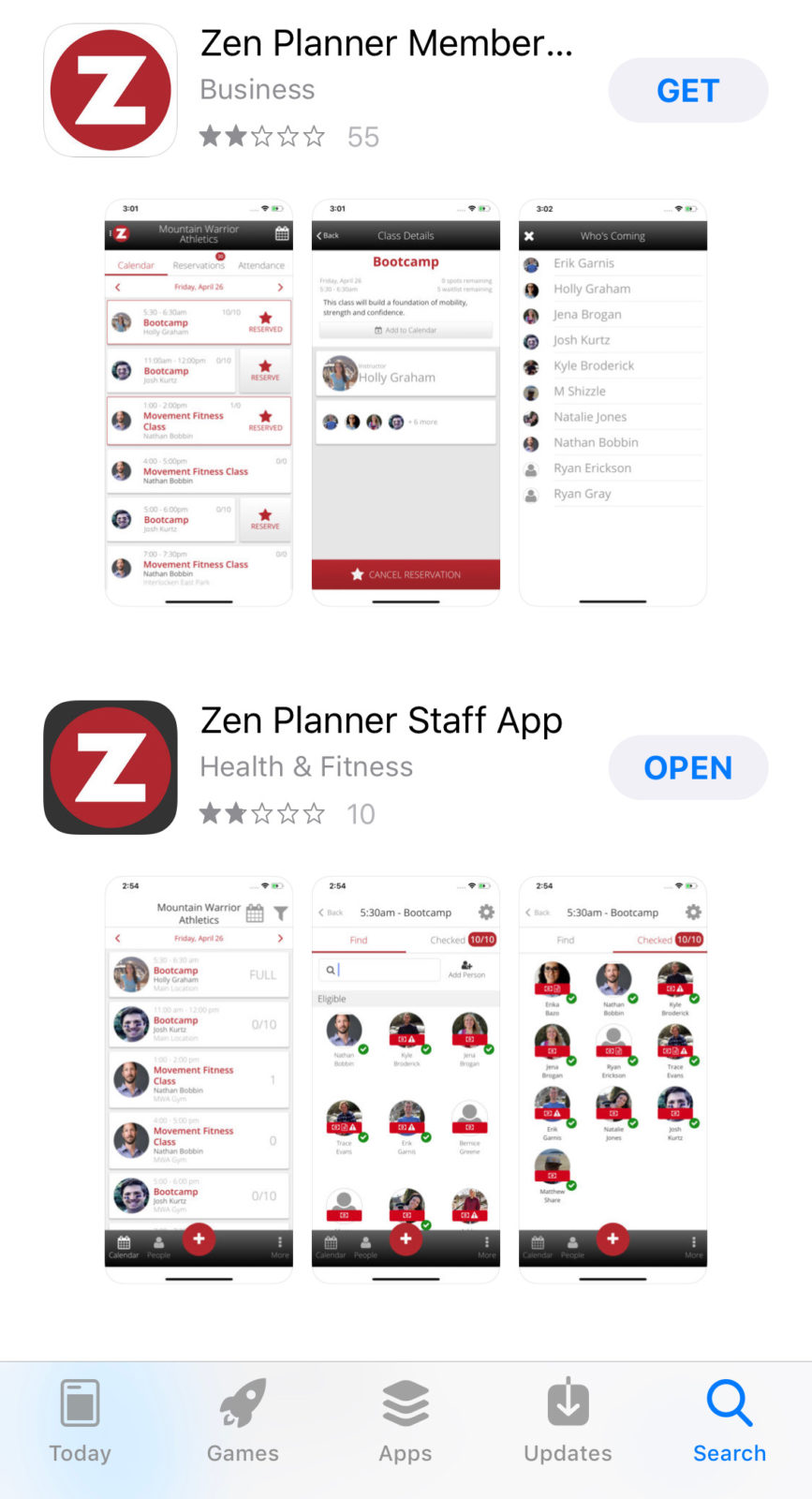 – Workout Creation
Among Zen Planner's advertised features is the ability to create workouts and track trainees' performance. The usefulness of this function is hit or miss; it will be based on your gym's particular style of workouts and programming.
While obviously yoga studios and martial arts schools will have no use of this feature, even personal training businesses and some providing group training will find disappointment in the limited capabilities of this portion of the software.
Workout tracking within Zen Planner seems to be a feature intended only for use in Crossfit affiliate boxes and gyms that utilize a similar Workout Of the Day-style approach.
If you are unfamiliar with Crossfit WODs, they are the hallmark training style of Crossfit boxes and other cross-training facilities. For the purpose of this article, we need not focus on particular movements performed in a WOD, just the overall structure.
A WOD is a workout with a standardized workload; all participants will be assigned the same number of reps and the same weight (when applicable).
The variable of the workout, indeed the crux of the entire competitive nature of it, is the time the individual trainee takes to complete it or, as another example, the number of rounds they can perform in a predetermined amount of time.
The important aspect that relates to how tracking a WOD differs from tracking other training methods is that a particular WOD does not change over time, it would be reused as many times as the coach desires with the only input necessary for tracking the workout being the members' single-variable performance result.
Thus the coach can, in one instance, create the workout in Zen Planner and never need to alter it.
Contrast that with the predominant approach of a strength and conditioning coach who guides a trainee through a progressive training program in which the work requirement of each workout and it's component parts needs to be deliberately increased over time as the trainee improves.
This would require a robust workout building and tracking software strong in its ease-of-use when updating the workouts themselves.
This is, unfortunately, beyond the scope of Zen Planner's workout tracking feature. To put it bluntly, the system is simply too slow and unintuitive and with no exercise library, a coach would find himself spending an inordinate amount of time trying to bend this feature to his purpose.
Nevertheless, creating a workout may be worthwhile for the trainer who must only do it once to then be used ad infinitum.

Crossfit coaches and box owners will appreciate that the workout tracking system comes pre-loaded with templates of the well-known Crossfit Open workouts that can be quickly implemented without a less-than-enjoyable visit to the Create New Workout section.
– Point of Sale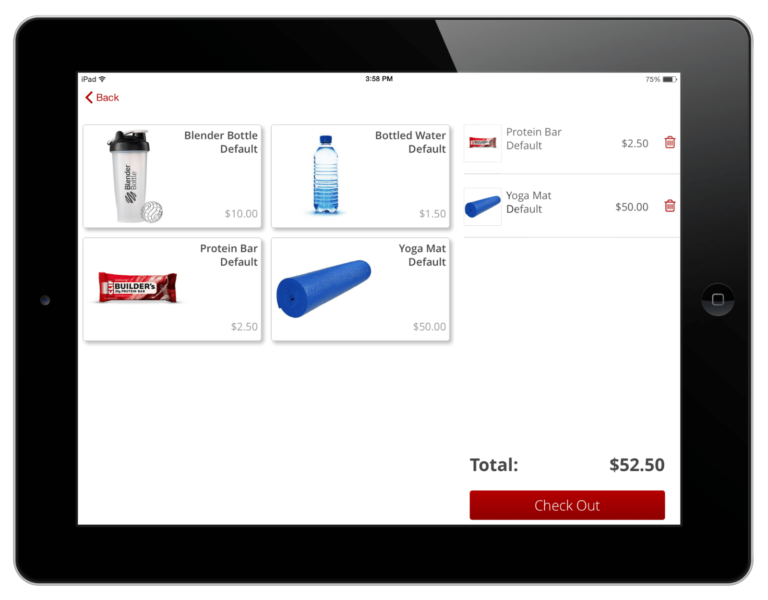 In the current market, many gyms from boutique studios to large health clubs choose to operate a retail revenue stream to complement their standard services.
Those using Zen Planner can take advantage of the convenience of a POS and inventory tracking feature that works alongside the gym's membership sales and billing without the need for a separate software platform.
Through the setup tool, you can add items and set their prices and sales tax rates. You can use the inventory function in tandem to track quantity on hand of each item and set up alerts notifying staff to reorder stock for items falling under your custom quantity thresholds.
Once items have been set up, they are ready for sale through the built-in POS function by staff or via the optional Client Self-Service system.
– Client Self-service
The client self-service feature is an option that can streamline your gym's daily operations or ease the burden on a business with few staff members available for customer service.
At your discretion, you can enable clients to utilize a self-service kiosk (an IPad is recommended) to check-in for appointments, make payments, purchase retail items, and even complete a new membership sign-up.
Among these options, you may utilize as many or as few as you like based on your business model. While self check-in for a workout seems like an obvious benefit, it's your choice as a gym owner to determine whether or not a more significant operation like starting a membership is something you entrust to the clients themselves.
– Program and Schedule Design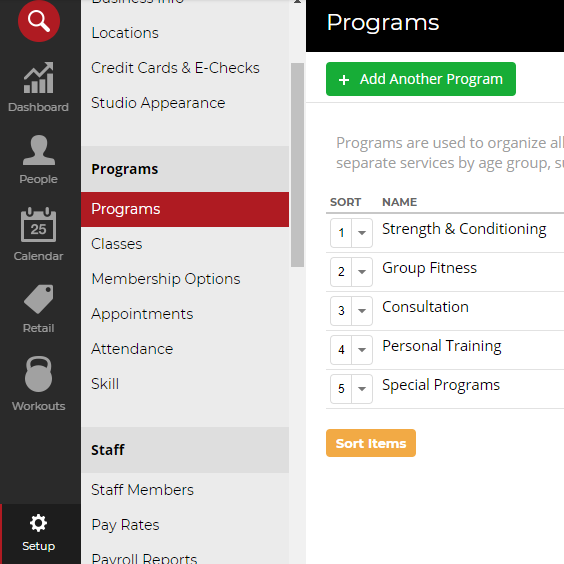 Outlining your gym's various programs, class types, and schedule is the first logical step in getting your management software to work for you.
The account admin would visit the Setup screen and create (if applicable) multiple programs or categories and, within each program, the specific classes. For example, a gym which features weight training and yoga may generate this structure for their program:
Weight training [program]

Beginner class
Intermediate class
Advanced class

Yoga [program]

Hot Yoga class
Flow class
Barre Fusion class
For each class, the user may then create a schedule of specific times when the class occurs.
Why is this important?
Designating the time of each class controls when it will appear for check-in to your members should you opt to track their attendance. I highly recommend you do in all cases but when it comes to gyms using a business model based on class limits (3/week, 12/month, etc.), utilizing this feature is a no-brainer.
Despite the high degree of freedom to create as many programs and classes as needed, Zen Planner's scheduling system has one significant downside:
When it comes to individual appointments such as personal training sessions or consultations, adding or changing these one-off events to the calendar is a hassle, to put it mildly.
Let's say, for instance, that a trainer's private coaching client is normally on a recurring schedule of 5 pm on Mondays, Wednesdays, and Fridays. This week, however, they want to move Friday's appointment to the morning.
Rather than a simple drag-and-drop on the calendar or two-click time adjustment as one might hope for, the trainer will be required to click through multiple windows back in the Setup section, essentially creating that new calendar entry from scratch.
When considering that there may be a high volume of clients, all of whom require flexibility from time to time, this inefficiency can add up to quite a bit of wasted time for a trainer or gym owner.
Let the team at Exercise.com show you how to grow and manage your fitness business better!
– Create Membership Options
With your various programs and classes created, the next step is setting up who can access each program and their cost to do so. This is where creating membership types and packages come in.
Just like creating the programs, adding membership options can be as complex or as simple as you wish to make it. Zen Planner gives you the freedom to create memberships and link them with any combination of your services.
You may, for example, create a membership type with access to weight training coaching sessions with a limit of three per week and Open Gym use with unlimited visits each week.
Membership types that will be used regularly for most clients can be saved as defaults so they need not be created from scratch for each new member.
Managers will, however, make use of the Add Custom Membership option in which you may instantly create a membership with unique parameters such as a special discount or any other circumstance that falls outside the normal pre-determined membership settings.
The seemingly limitless options for setting up memberships are one of the Zen Planner platform's strongest offerings.
– Automation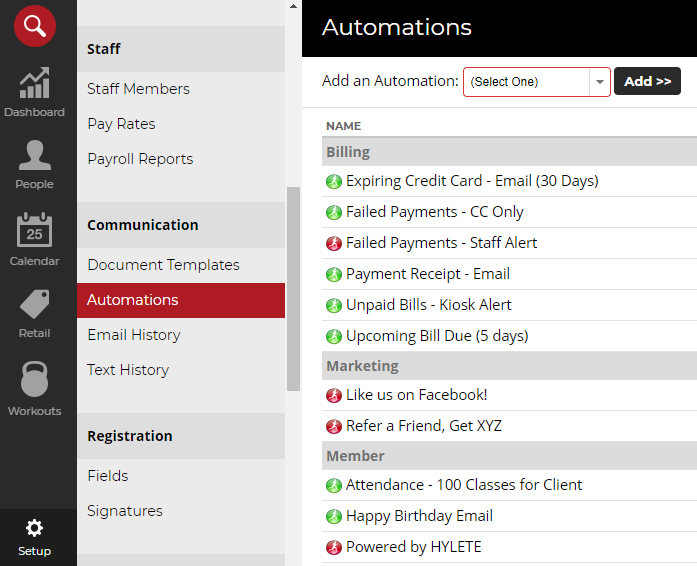 As a gym owner or coach, the more aspects of the business you can automate, the more you can focus on training and client relationships. Thus a feature like automated emails to your clients is a must-have in your management software.
Zen Planner comes with a default list of suggested automatic messages that the user has only to activate and they'll be up and running and streamlining their business. Among these are payment reminders, receipts, past due notices, and birthday messages.
There are dozens of templates set up to auto-fill the appropriate information about the client's name, membership type, and relevant dates. Additionally, all emails can be customized giving you the ability to create an automation based on any piece of data you track in Zen Planner.
You may, for example, create the following sequence for a new member:
Welcome email after the first visit
Check-in email after the first two weeks
Request for a positive review on social media after four weeks
Introduction to referral program and referral request after six weeks
By using the platform in this fashion, you can reinforce the member's decision to join, build rapport, and potentially even gain new client leads all without lifting a finger after the initial set-up.
In the modern fitness industry, if you're not using software with email automation you're doing yourself and your business a disservice.
– Data Reporting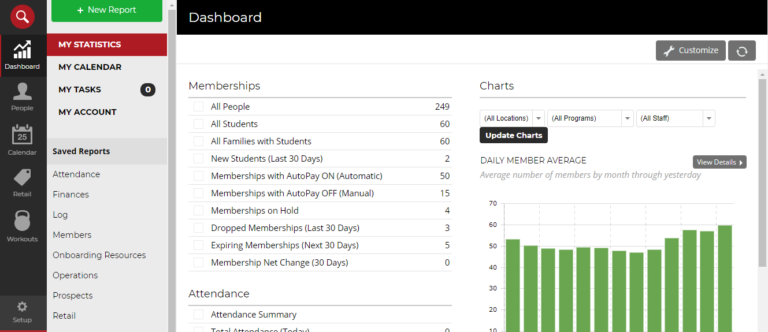 Successful gym owners constantly stay in tune with the performance of their business, not just their clients. Quick access to your gym's critical data on a daily basis is a key feature of management software and one that Zen Planner does quite well.
A visit to the Dashboard will let you view reports of the gym's financial statistics, attendance, and sales. While there are many useful default reports that automatically appear on this screen such as memberships expiring soon, upcoming payments, and projected revenue, the user can create custom reports for any data their business collects.
The dashboard view can be customized to include whichever reports you find most relevant to the day-to-day operation of the business so that with just one click you have access to the pertinent data.
– Billing
While most gym owners opt for the simplicity of one-time upfront payments or monthly recurring payments, Zen Planner allows memberships to be set up with every conceivable payment schedule from a simple chronological basis (weekly, bi-monthly, etc.) to punch card style options where the member will be billed again after a specified number of check-ins.
Zen Planner can further help you stay organized in your business's bookkeeping by allowing you to categorize payments, including those on automatic draft, according to program or membership type. Thus you can track the financial performance of each of your gym's programs independently in addition to the overall revenue of the business.
Zen Planner makes it fairly simple to add or delete payment methods, turn auto payments on or off, and view payment history for a particular client. Ideally, at the time of onboarding a new member, a card is placed on file for automatic billing and little backend account management is necessary.
However, because credit cards get stolen or expire and members occasionally change payment method out of preference, the ease of updating payment methods within Zen Planner is a noteworthy characteristic.
– Integrated Payment Processing
Selecting a payment processing service is a crucial part of setting up your business for financial success. Like all membership management/billing platforms, a third-party company must come in to play to ensure that when you click Charge Bill, money actually moves from your client's account to yours:
That is your payment processing company and their rates and processing time can make a huge difference in your gym's profitability.
Subscribers to Zen Planner will want to give serious consideration to utilizing their partnership with Paysimple for card payment processing integrated with the software.
As customers of their preferred billing software, Paysimple grants a discount to Zen Planner users. Because just .05 percent rate difference can make a difference of thousands of dollars over the life of your business, this discount is worth looking into.
An additional benefit to using Zen Planner's Paysimple integration is the elimination of extra steps when issues pop up in the normal course of business. Let's say, for example, you owe a customer a refund for some reason.
With any other third party processor, you'd need to contact the processing company to initiate the refund in addition to reversing the payment on the client's account in Zen Planner. If you opted to use Paysimple, however, the refund can be initiated directly in Zen Planner with no extra steps.
– Staff Management
Along with managing your clients, Zen Planner can provide vital functions for gym owners who employ trainers, salespeople, and operations staff.
The software features the ability to add staff members and set the schedule and responsibilities for each one. For example, the admin may add a weightlifting coach to the staff and set him as the primary coach for morning strength training sessions. Upon viewing the calendar, other staff and members would then see his assignment to those classes on the schedule.
Naturally, all staff will have some occasion to interact with your gym's management software so Zen Planner gives you the ability to set staff permissions for each individual employee.
For example, you may wish to restrict personal trainers to the ability to check clients in for sessions and view their remaining number of sessions while giving managers or those involved in sales have the ability to initiate or terminate memberships and process payments.
Zen Planner gives the gym owner the ability to track staff activity and customize the role of each staff member in the business.
For staff who have been assigned an hourly pay rate, Zen Planner can also serve as a basic time clock.
– Website Design and Integration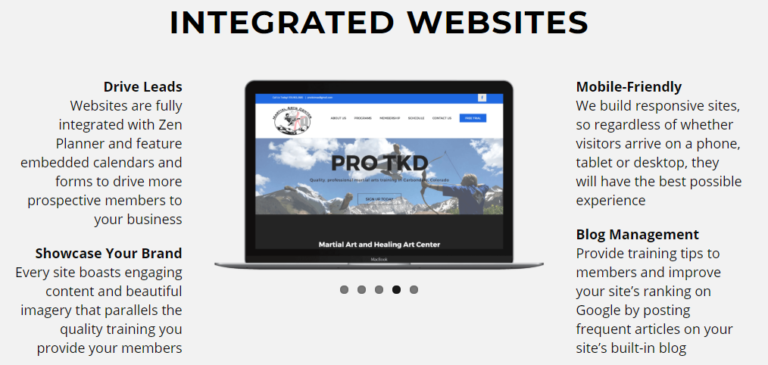 For gym owners with the budget to afford it, perhaps the best way to take advantage of all Zen Planner has to offer is having their team develop an Integrated Website for your business. Zen Planner can create a custom website with convenient tools built in that link directly to your Zen Planner account.
For instance, when a new visitor to your website gives their information in a consultation request form, they can be automatically added to your prospect management system in Zen Planner.
From there they'd automatically be entered into the built-in prospect curating email funnel, greatly increases their likelihood of visiting your gym in person and becoming a member.
It is the ultimate way to utilize Zen Planner and the best solution for the business owner seeking the most efficient, hands-off way to run their gym management software. This added convenience and reduced stress, however, does not come cheap:
Depending on the number of members at your gym and your selection of certain premium features, having Zen Planner build and maintain your site will cost your business between $400 and $1000 per month.
Who is this fitness software for?
– Target Market/Positioning
Zen Planner is marketed as a management and marketing solution for Boutique Gyms, Crossfit Affiliates, Traditional Martial Arts and MMA schools, as well as Yoga Studios.
What do these users have in common?
All provide premium services like guided instruction in a personal or group environment. Many of Zen Planner's features would be superfluous to the type of business selling simple facility access for permission to use an open gym floor.
Small to Medium size fitness businesses offering a higher level of service and often multi-faceted membership options need software with the flexibility to operate multiple programs and convenience features which justify clients' premium price of membership.
Additionally, it is the small business, primarily, which Zen Planner's all-in-one package appeals to. Here's why:
While the enormous national franchise gym with 8,000 members has the money and infrastructure to invest hundreds of thousands of dollars in separate specialty software platforms and separate staff for training, sales, and marketing, small business owners have a limited budget and must often play numerous roles within their business.
For that reason, they will usually seek the one solution to all their business's needs.
– Trial, Registration, and Set-up
As previously mentioned, the management software you commit to using in your business is a huge decision that will affect your stress level and your earnings. How do you make sure you're picking the right one?
Better take it for a test drive!
Most management software providers offer a trial of some sort and Zen Planner is no different. On their website, you are invited to register for a free live demo of the software guided by someone from Zen Planner's support team.
Following the demo, prospective subscribers are granted access to the software on a trial basis for 14 days to test its features. You can practice creating memberships, generate a schedule, and see if its workout tracking is of use to your business.
If you decide Zen Planner is right for you, after subscribing they'll provide three onboarding sessions in which a support team member will guide you via video chat and screen sharing through the process of setting up the software to match your gym's needs. Once you're in business, you can access more help through Zen Planner's extensive library of online tutorials.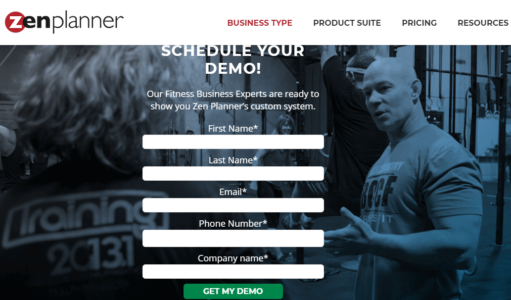 – User Perspective
Zen Planner's reputation is generally very good with positive ratings from the well-known review sites Capterra (4.5 / 5), GetApp (4.3 / 5), and Finances Online (9.5 / 10).
Browsing the many user ratings, a couple of trends stand out:
Users who rate Zen Planner the highest focus on the topics of customer service and value for the money.
The Best…
"Customer service is always top notch. If a representative can't answer your question, they'll research and provide a solution usually by the end of the day."
"Support team is great, and really helps in the onboarding process. They are very fast in response time and give many options for helping solve situations."
For users who gave Zen Planner poor ratings, the focal points were technical functionality or trouble with individual features pertinent to their specific business. The same users account for the rare customer support complaints reporting being let down when seeking help for their issue.
The Worst…
"Our gym runs about 250 sessions per week. They're all different. ZP's workout builder does not work for this. We were spending ~3 hours per day inputting workouts. It could not scale. So now we do not track workouts in the software."
"The needs we stated for our business were simple and we were assured that Zenplanner could perform them. Going through the onboarding process was like repeatedly being told 'no it can't do that' and 'sorry, no it can't do that either'.
In summary, Zen Planner seems to check all the boxes for gym owners who use very simple operating models in their business. Those with only a couple membership types and exclusively group classes (the easiest to set-up) have the best experience.
However, if your gym's day-to-day needs would involve some of the more specialized features Zen Planner advertises, it is worth thoroughly verifying prior to committing to the service.
– Pricing
Zen Planner features a tiered pricing model based on your gym's number of active memberships. An active membership would be any person in your database as a member, even if their membership is on hold or has a past due balance. Not included are people saved in your database as prospects or alumni of your gym.
Zen Planner offers both month-to-month and annual payments, the latter entailing a discount of roughly $20-30 each month depending on which volume tier your gym falls in.
Top Direct Competitors
In fitness facility management software, some of Zen Planner's top competitors are:
MindBody, one of the most widely used platforms due to its compatibility in multiple industries.
Exercise.com, the only software offering complete custom-branding for your business's online platform and mobile apps.
Virtuagym, a lower-price software option for gym owners not necessarily seeking the full array of features of an all-in-one platform.
The Bottom Line
For small businesses in the fitness industry looking for software to manage their gym, Zen Planner is worth a look. While it has all the basic necessities like billing and reports covered, you'll need to closely examine whether its more specialized features meet your needs as they are not universally applicable or reliable.
It's a serious decision when choosing how your gym will run and what tools will help make it a success. Don't leave anything to chance and settle for nothing less than what's exactly right for your business.
[ad_2]

Source link
Tagged:
Features
Overview
Pricing
Review
ZenPlanner