Vagaro Review [Everything You Need to Know]
[ad_1]

Get the Basics…
Vagaro is a cloud-based management solution for salon, spa and fitness businesses.
Vagaro is the #4 ranked salon and spa software in 2019, with 38,000 customers, 3rd highest in the top 20 field of salon and spa booking and appointment scheduling software.
Well-priced, tons of automation and customization features with security protection and support make this a very well rounded salon, spa, and fitness software application for virtually any business.
This Vagaro review is going to cover a basic overview of the company, briefly cover as many relevant features as possible while discussing the more standout ones, go over the available marketing and branding tools Vagaro might offer, and lastly, cover the prices of the software and software upgrades/integrations.  By the end of this Vagaro review, you should have a very solid idea of whether the Vagaro software is for your business, or not.
The company overview is going to cover the company's founding, what type of software the Vagaro application is along with its functions, and lastly, what Vagaro is best known for: booking and scheduling made seamless and easy.
The features section is all about giving you the information necessary so that you know know what you can expect from the Vagaro software.  If there are software integrations that can boost the Vagaro application performance for your business, that will be discussed in this area. Finding the best application for your fitness business is the primary goal for this Vagaro review.
In branding and marketing you will find out exactly how Vagaro can help you do just that: help you with branding and marketing your business, which means better quality clients and customers which means more revenue, which allows you to do what you do best: run your business.
All of the relevant pricing for basic Vagaro software and its upgrades will be discussed at the end so that you can make a decision that will help your fitness or salon and spa business shine the most.
Vagaro Software Company Overview
Vagaro is a cloud-based management solution for salon, spa and fitness businesses.  The software's key function is to match clients and consumers to salons, spas, and participating fitness spaces.  Several types of customers seek out Vagaro as their business software:

The Vagaro software application is a payment processing tool that enables client payment transactions to be handled during the booking or appointment scheduling.  This feature makes it super easy for clients to locate the services they want and pay for them in advance, making the booking, appointment setting, and POS transaction process easier for customer and business.
Incorporated in 2009 by Fred Helou out of Dublin, California, Vagaro employs just over 60 individuals and recently received $63 Million in funding for their appointment and booking tools which have helped make business transactions more user-friendly, which means better business.  In terms of revenue, Vagaro sits right in the middle of the competitor revenue earner's list with $2 Million in their last year.
Vagaro is the #4 ranked salon and spa software in 2019, with 38,000 customers, 3rd highest in the top 20 field of salon and spa booking and appointment scheduling software.  There are 102,000 users on its platform have helped Vagaro attain over 311,000 likes on Facebook, with the next closest competitor over 37,000 likes away.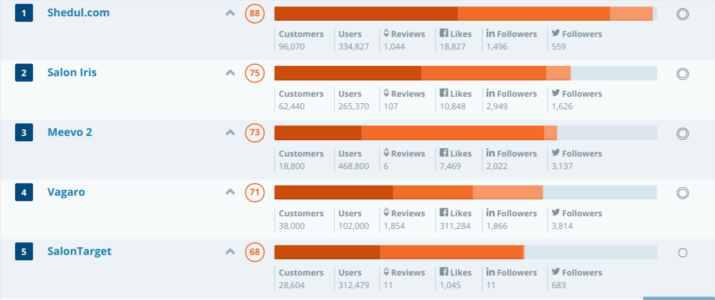 The Better Business Bureau(BBB) rating for Vagaro Salon and Spa software is an A+ coupled with six 1-star reviews posted to the Vagaro BBB website.
Vagaro Software Features Overview
If you've been in the fitness or salon and spa industry then you've probably worked with various different types of business software.  Some come with ease of functions for making sales, especially if the gym is offering shakes, food, juices, snacks, and swag gear.  Others are all about recording data, while some others are centered on integrations with social media and other fitness apps.
Vagaro is especially known for its functionality around appointment setting and ease of booking for business AND clients.  Clients are able to search in their local vicinity for businesses that offer the services they are looking for.  For each participating business, the customer can complete the booking appointment and sales transaction, making the experience that much easier.
This type of software functionality also works in gyms where fitness classes reign supreme, so gyms or businesses that offer classes like TRX, Zumba, Spinning, Aerobics, Dance, and other group exercise and fitness classes like Crossfit are a fantastic fit for the Vagaro software.
Up next we will take a comprehensive look at system functions within the Vagaro fitness, salon and spae software.
– Vagaro Capabilities
Vagaro comes with a serious list of functions that are included in the basic subscriber package.  The following table contains functions bracketed under the following category lists:
Scheduling/Extras
Database/Reporting
POS/Transactions
Branding/Marketing
Tools/Support
Although Vagaro does have a Pro version for users who need just a bit more from the platform, Vagaro's software is directed at servicing hair and nail salons, spas, barber shops, massage parlors, tanning salons, hair removal businesses along with fitness businesses such as personal trainers, cycle studios, Crossfit gyms, dance and yoga studios, offering support for several other fitness business types.
– Customer Appointment and Booking Features
Because Vagaro is so adept at making appointment setting and class-booking easier for clients, most of its features are also centered around making the user experience less complicated and more streamlined which are two keys to running a profitable sales experience.
Vagaro's software is not only capable of transferring over client and inventory lists from your current software but will do so at no additional charge to the user.  Vagaro's online booking has a calendar feature that comes complete with notifications and customer tracking, marketing options, branding tools, and business management reporting.
Online Booking
Vagaro makes appointment booking and setting easy by allowing users to book from:
The users custom website
The Vagaro App
Google
Yelp
Facebook
Google and Yelp are additional software functions that each unique business can add to meet the needs of their own individual client base more efficiently.  With rescheduling, recurring appointments, cancellations, and available class times with class size cap limits, Vagaro salon, spa, and fitness software make scheduling and payments seamless and easy.
Notifications and Customer Tracking
With the option to opt in and out of receiving text messages, Vagaro has settings for businesses to send class and appointment reminds to each client to help decrease class no-shows, allowing businesses to fill the voids and reach their revenue goals with much less mess.  Customer preferences can be stored in the system, making the appointment and booking process unique to each client.
Data Reporting
Integration with Quickbooks is also available on the Vagaro app, making it easier for businesses and employers to access payroll, timecards, appointments, marketing revenue, and tactics, along with inventory reports and more.
Without reporting it's impossible to see trends, identify areas to improve and plan ahead based on previous trends.  With close to 20 different types of reporting available to businesses with the Vagaro software from activity tracking and sales reporting to productivity reporting and at interval business reporting, Vagaro makes it easy to keep track, stay on track, and stay prepared.

Point of Sale and Transaction Processing Options
Signing on as a business with Vagaro gives you several options for equipment and processing of transactions in-house.  If you do not currently own point of sale and transaction ready computer system, Vagaro can sell businesses one of the following systems, found here on their sales page.

The $74 Vagaro Essential Mobile EMV comes with:
EMV card reader
connect wirelessly to your Android or iOS
EMV reader accepts chip cards AND magnetic stripe
Dock and table stand also included(for a tablet which is NOT included)
Square's EMV reader is $49 but may not sync with Vagaro software
The $428 Vagaro Complete Mobile EMV POS comes with:
Full bundle set
Receipt printer
EMV chip and magnetic stripe card reader
Dock and table stand
Cash drawer
Tablet is not included
The $547 Vagaro Complete Computer POS EMV comes with:
EMV reader and dock
Barcode scanner
Cash drawer
Receipt printer
Computer/tablet not included
While you will notice that none of Vagaro's systems included a tablet or computer, keep in mind that most low-end salon, spa, and fitness point of sale computer hardware/software systems start around $1,100 with maintenance software costs around $30 a month. High-end computer systems in the same category can get pricier than $2,000, with those systems requiring as much as $50 a month for software costs.
– Automatic Features
Automation is the future and Vagaro salon and spa software knows it.  It creates ease and quality of life for business and consumer and a system that can handle automation are profitable ones.
Vagaro software handles a lot of tasks for the business from security to marketing, scheduling, billing, and birthday emails!  There are also other configurable automated reminders that each business can use on the platform.
Some of the automated tools you can look to make life easier with the Vagaro platform are:
Automatic syncing & security

Make sure all of your accounts are synced and only you can access them

Automated email marketing 

Email promotions, sales, class times, notifications and reminders consistently with automated email marketing

Automatic birthday or anniversary emails 

Keep in touch with your customers and clients in the best ways with automatic birthday and anniversary  emails

Automated billing for memberships and packages

Take better charge of your business revenue with better handling of billing subscriptions and membership packages

Automated Scheduling

The best part of the Vagaro process, making scheduling easy

Automated appointment status responder

Communication between classes, appointments, and schedule changes makes every party a happy participant

Automatic Notifications

Leave the anxiety of having to check on things and get your notifications automatically

Configurable automated reminders

The available automated features proving not enough?  Take control and customize other configurations according to your personal business needs!
– Security Features
Vagaro salon and spa software is GDPR compliant and considers the privacy of its consumers as one of its highest priorities.
Using cryptography and data centers to which HTTPS (SSL) encrypted transmissions are sent from users computers or mobile apps.  Credit cards transactions are completed through PCI-Compliant gateways and bank networks to ensure security for its 6000 plus businesses across the United States, UK, Australia, and other countries in its network.
Integrations and Add-Ons
While Vagaro software only integrates with about 25% of the most popular apps, sometimes simple can be more streamlined and successful.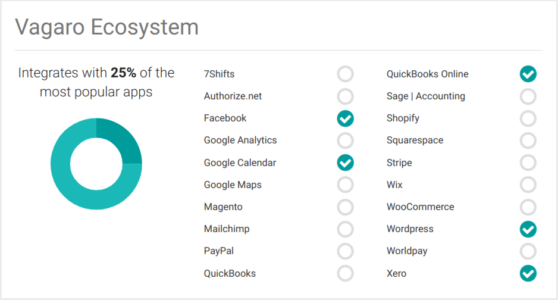 Because of Vagaro's automatic functions and wide variety of features available to users, the salon and spa software doesn't need a lot of other integrations.
Quickbooks is still one of the oldest and most efficient business utilities on the market, so keeping business tight with reporting from Vagaro software can make your business that much more profitable at the bottom line.
With almost 2.4 billion Facebook user accounts, the social media giant still makes a mark when it comes to doing business.  This integration is particularly key for businesses looking for marketing outlets for expansion.
WordPress is a great app for businesses who want to offer their clients a little more up-to-date info.  Whether through blogs, business pages, etc., the integration of WordPress and Vagaro makes connecting with clients easier.
If a user isn't doing business with Quickbooks online accounting, it's quite possible they are doing it with Xero.  Xero's online accounting software integrates with Vagaro as well.
Available Marketing and Branding Tools
– Website Customization
The Vagaro Salon and Spa Software customization features add the unique individual feel necessary for branding and marketing of clients' businesses, with several options available.  From basic template and color choices to having a professional team at Vagaro design a custom logo and website, you can even choose to host your own website through Vagaro for $10/month and pay a one-time fee of $100 for your customized website.
Vagaro's custom logo design goes through two proofing rounds, and for a small fee, you get to keep all of the prints.  Examples of the Vagaro design team's themes can be found here.
For the $10/month fee, you get to host your own custom website without a Vagaro Logo.  The Vagaro software has a few options, however, that DO leave customization completely in the hands of the user.  The user can choose one of three ways to market and brand their business uniquely.
Choose from a few of various pre-made themes that are available on the Vagaro software.  These come ready with designs for each industry(i.e. hair and nail salons, spas, yoga studios, fitness studios, etc.)
With their custom website builder, the business owner can pick and choose their own colors, settings, and have complete control over the look and feel of the app that their customers are logging into.
If the user does not see a fitting design for their business with the website customization feature, the one-time $100 fee can be used to have the Vagaro team design a website that is unique and specific to the user's business and brand.
These are actually relatively reasonable prices for logo design and website creation.  Typical prices for logos start at around $100 while the costs for website design will range anywhere from around $50-80 an hour for a professional team.  Websites usually end up costing a total of around anywhere from $250 to $1500.  Vagaro makes it easy for a $10/month fee and a simple $100 for their design team to build a custom site on their platform.
Pricing Breakdown

Vagaro salon and fitness software starts at $25/month with additional fees for extra users. More than seven users will cost a business $85/month.  Along with the $10/month business support fee and possible customization costs, the startup fees with the Vagaro system could cost close to $1,000 when one factors in a possible complete point of sale system and subsequent computer for the system.
Users had this to say about Vagaro pricing:
"I get a full booking salon software that is portable for a small suite owner. I have everything the big salons offers and a affordable price." – Chandra

"This is by far the BEST software on the market! I am so thankful for the ease of access and features!" – Jaimey

"The ease of use for advertisement, processing payments and reports are great."
Vagaro's customization abilities allow for big and small businesses to adjust accordingly according to budget and still have complete functionality inside of the software.
The Bottom Line

With the most reviews on several sites, Vagaro's average rating was around a 4.7 out of five stars.  Well-priced, tons of automation and customization features with security protection and support make this a very well rounded salon, spa, and fitness software application for virtually any business.
Vagaro also gives each potential user a free one-month trial of their product and you won't get charged for trying out some customization options until the next month.
[ad_2]

Source link
Tagged:
Review
Vagaro