MindBody Review [Everything You Need to Know]
[ad_1]

Get the Basics…
The types of businesses serviced by this software are studios, gyms, and individual fitness professionals
Having a branded app allows businesses to give potential customers the option to find, book and pay for classes in advance.
Because the MindBody software is so versatile with its ability to integrate with other applications that have additional business support features, it is able to offer its users several versions of its operating platform to maximize the benefits.
When over 200,000 fitness clubs worldwide serving close to 175 million customers are looking to bring in collectively over $87 billion in revenue in 2019, it means the space for fitness applications, software, gym equipment, innovation, and businesses has still not reached its ceiling.
In an industry that is constantly growing, if a business cannot adapt to stay relevant, or at least change its process to be more industry ready and friendly, that business will absolutely NOT be around for an extended period of time.
This is where MindBody and other fitness industry business software look to be a part of every business owner's solution.
With those notions in mind, this review is going to cover the MindBody company background and give you a brief overview of their system, review the features that the MindBody software offers businesses, and teach you more about the types of businesses and entrepreneurs that MindBody services.
You'll also get the lowdown on pricing, check out MindBody's top competitors in the fitness software industry space, and come up with the bottom line to help you make the best decision in taking the next step to expanding your business.
MindBody Company Overview
Before we get into the more serious information on features, pricing and comparisons, let's take a look at the MindBody Software promo video from their Youtube page:
MindBody Inc., is a software fitness app whose primary directive is connecting its business clients and individual customers with local consumers in their general area.  
It is a cloud-based fitness business software that operates on a fee-based platform that is also semi-customizable to each individual business. Because it is a subscription-based service, MindBody does offer several subscription tiers that vary in price based on the needs of each individual business owner.
MindBody fitness software was originally introduced as HardBody Software by Rick Stollmeyer and Blake Beltran in 2000, and incorporated as MindBody Software in 2001. 
A publicly traded company on the NASDAQ: MB, MindBody currently services over 34 million health and wellness customers in over 130 different countries, while also being utilized as the primary business management software and online scheduling platform for close to 60,000 other health and wellness based businesses.
The types of businesses serviced by this software are studios, gyms, and individual fitness professionals seeking to maximize and retain their current clients while marketing through various automated systems in the MindBody database to bring in potential new consumers for the user's business.
Yoga and Pilates studios, indoor cycling facilities, group and personal training gyms/studios, salons, spas, and other health and wellness based integrative businesses are all able to utilize the MindBody Inc, software platform.
Bikram Yoga and the New York Health & Racquet Club are two of the most recognizable names on the Mindbody clientele list, and they are also listed as the "Largest global provider of online business management software to the beauty, health and wellness industry," by Institutional Venture Partners.
Some other awards and accolades that MindBody has gained over the years of its business growth are:
2016 Webby Award and Webby People's Voice Award in the Mobile App: Fitness and Recreation category.
Best In Show 2016 W3 Award in the Mobile App/Sites: Health and Wellness category
Chief Product Officer Chet Bradenburg received The Tribune's Top 20 Under 40 Award
MINDBODY Connect – Codie Award for Best Consumer Application 2015
MINDBODY Express – Silicon Valley Business App: Best Finance & Management App 2015
Named among the top 50 best places to work for by Glassdoor in 2016, 2015 and 2014.
Named among Inc. Magazine's fastest growing companies in the U.S. (Inc 5000) annually 2008-2015, making the Inc 500 list in 2009.[25]
While B Better Business Bureau (BBB) profile rating remains at an A+ value, the consumer complaints have an average of a one-star rating through the 17 reviews posted on the profile.
Mindbody Features Overview
Mindbody Inc. not only comes with a plethora of features but also has a marketplace for integrative apps that can be linked and are actually suggested for use with the Mindbody fitness software application.
Within the Mindbody Fitness Software, the basic client has access to:
We all want our businesses to be just that, OURS. Sometimes, we need a little help from friends. With MindBody, when purchasing a branded app MindBody requires that the user register in the Apple store THEN send the request to MindBody for partnership in development.
This is what it means for your business should you choose the MindBody software:
MindBody can no longer publish your branded mobile app through our Apple Developer account.
Your business must register for an Apple Developer account to continue using the iOS version of the branded mobile app.
Once approved by Apple, you must grant MindBody permission to publish the app on your behalf.
This is only for the iOS application versions, with MindBody still publishing branded apps for its users on the Android platform.
Having a branded app allows businesses to give potential customers the option to find, book and pay for classes in advance.  The best part of the process is the workout, so being able to get in and out of class is always a huge bonus for participants.
– Mindbody Software Versions
The MindBody Fitness Software App contains four software versions at varying rates according to client need. These are Essential, Accelerate 1.0 and 2.0, and Ultimate 1.0 and 2.0.
Because the MindBody software is so versatile with its ability to integrate with other applications that have additional business support features, it is able to offer its users several versions of its operating platform to maximize the benefits.
MindBody offers Essential, Accelerated, and Ultimate versions. Each of the Accelerated versions (Versions 1 & 2) and Ultimate versions(1 & 2) have very minute differences, but each is still an upgrade over the basic Essential package, which still packs a ton of functionality for the business owner.
– Essential Version Features
With that in mind, below are listed the additional features covered in the Ultimate packages. Each Accelerate package version falls somewhere in the middle of these two tables.
– Ultimate Version Features
As one can begin to ask themselves, just how many features and upgrades are classified as too many? What all do you need or want in a fitness or salon business application?
Fortunately, the deciding factor that really differentiates the Ultimate version is their use of the automated marketing software, Frederick. Frederick collects more than one million data reports for businesses around the world.
With its primary goal being to increase repeat business, get more online reviews, and help the business sell more membership packages, Frederick has helped businesses generate five times the cost of the add-on application's monthly subscription price in customer business.
Two-way SMS option for all of Frederick's Smart Marketing tools (except package and membership promotions)
Custom email builder to design your own drip campaigns
Segmented, customized contact lists
Complete referral and rewards program
Ready-made, on-demand promotional campaigns to boost business when things are slow
Automated client-outreach campaigns to fill slow days or last-minute openings
Targeted package and membership upsells
Lost client recoveries
Feedback and reviews captured automatically and uploaded to your social media channels
A dashboard screenshot of the quick information Frederick can provide: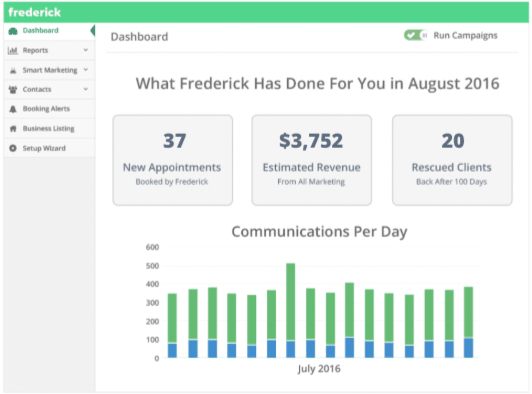 "Frederick takes the data accrued in your MINDBODY software—on customers, staff, services, and sales—and builds a complete picture of your business. It then automates and optimizes customer outreach through custom drip campaigns, referral programs, reputation management, and flexible client retention tools that aren't available in Accelerate—or anywhere else.
It may even replace some of the third-party services you already use. Frederick builds on the basic retention features included in the Accelerate package by connecting a full suite of marketing tools to your MINDBODY software." Mindbody Website
While it's always great getting a rundown of features and looking at tech information sometimes we want it spelled out in layman's terms to get a better feel for whatever product or software we end up using.
Some gym software ends up being clunkier than necessary, while others run smooth but have processing issues. Below are some "layman's terms" on the MindBody fitness software application.
"The app lets you promote intro deals and last-minute offers to attract new clients in your area, and shows you how active they are so you can keep them engaged. We only apply a small service fee for each offer and deal sold in the app, much less than similar services, which typically charge 50% or more." –Mindbody Website
"On top of your app listing, you can also list your classes and appointments on Google, the largest search engine in the world. So, when potential clients search for "spin class" or "personal training," they can book and pay for those services directly on Google. We charge only 10% of your price for each class or appointment booked." –Mindbody Website
"Once you've attracted new clients, keeping them engaged is key. MINDBODY health club marketing tools include the Retention Marketing Dashboard, which automatically sends two-way text appointment reminders to reduce no-shows." –Mindbody Website
– MindBody App Integrations
Fitmetrix is the premier MindBody integrative software add-on that signs members in and allows them to reserve spots for classes, while also sending emails of progress and tracking client performance. 
Fitmetrix works with heart rate monitor software bands to assist in client performance and activity tracking while giving clients live metrics like heart rate, calories burned and effort points all on the gym leaderboard for clients to view progress during classes.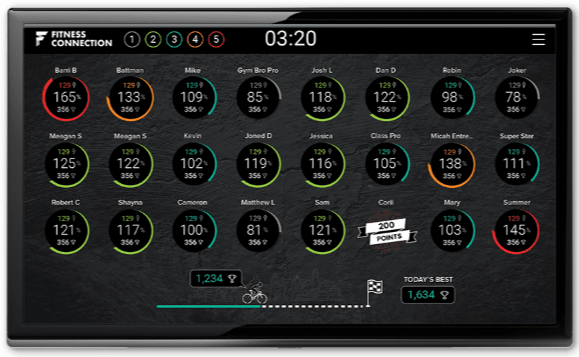 The Mindbody website also has a Partner Marketplace that allows the business owner access to "premier partner" add-on apps for retention, client and potential customer follow-up, marketing and advertising, along with other features intended for faster, easier, and more automated business growth.
With over 55 partner apps in the Mindbody Partner Marketplace, business owners are encouraged to pick and choose the add-ons necessary for their business-specific growth, bettering client retention, business marketing, upgraded automation features, etc.  
The Mindbody team also is capable of creating personal branded apps for the owner's mobile applications. The app is tailored to client needs for their business and brand and can be created for iPhone, iPad and Android mobile users.
– Additional Integrated Apps and Features:
Software
What It Does
ClubOS Studio
Club OS Studio is a prospect-to-client conversion tool built for yoga, pilates, cycle, barre, HIIT, and other boutique studios in the US and Canada. Manage relationships using automated texts and emails, and reach them at the right time. Have a client who hasn't been to class in 45 days? Set an automatic email or text to remind them about your next available class. Have a new lead that's come through your website? Set an automatic email to offer them a free class pass, and get them in your studio.
Mindbody Cards and Key Tags:
MINDBODY partners with a premier third-party printer to provide premium quality plastic cards and key tags that are connected to your MINDBODY site.
With custom key tags, the check-in process becomes instant: one scan of a barcode registers the client.
Bring new clients to your door with gift cards and redeem them instantly via your magnetic stripe or bar code reader.
ID & Membership cards give your members a tangible way to access your facility whenever needed.
Bowtie
Bowtie automatically turns missed calls into paying clients, so you never miss a customer. Service businesses miss 25% of calls; 85% of customers who call a business that doesn't answer won't call that business again, which means every call counts. On top of that, your AI receptionist sits beautifully on your website, responding and booking customers so they never leave your digital storefront unattended. If a client asks a question that the AI hasn't learned, it will ask for their phone number and you can respond through the mobile app and dashboard at any time.
ClassPass
Increase monthly revenue by filling unsold class spots, attract new users by getting discovered in the health and wellness community, and optimize your business through accessing reservation data, user behavior, and spot utilization
Constant Contact
MINDBODY's new Constant Contact integration makes it easy to automatically:
• Sync contacts—and their marketing opt-out preferences—between MINDBODY and Constant Contact.

• Send welcome emails to new clients.

• Email clients on their birthdays and anniversaries.
Peerfit
Corporate wellness could use some help getting in shape. By partnering with Peerfit, you'll gain access to new members via local employers, paid for by their corporate wellness dollars. Our platform integrates with MINDBODY and helps personalize wellness programs, allowing employees the ability to choose the fitness classes and services that best suit them.
LiveEdit
The LiveEdit Platform is a cloud-based CMS (content management system) website builder, enabling users to access their website content from any internet-connected device, at any time, from anywhere in the world.
WaiverKing
WaiverKing is more than a waiver company. Our unique, dynamic tool is changing the way business works, no matter what health and wellness industry you're in. We can help you go paperless with forms for registration, PAR-Q, contracts and monthly fees, memberships, health questions, intake, treatment, cancellations, suspensions, waivers and other information.
Zenrez
Zenrez is sales and marketing software built for fitness studios. It manages the entire customer lifecycle—helping you attract new customers, retain and upsell your existing customers and recover customers at risk of churning.
Perkville
Our programs award points to members who sign up for classes, refer friends or check in on social media. These points can be redeemed for the rewards of your choosing: anything from free merchandise to a session with a personal trainer to a discounted spin class.
Listen360
A simple, two-question survey is automatically sent via email when a client checks in for a class or appointment through MINDBODY. You'll have the ability to quickly and privately resolve client issues, improving your retention rate, while happy clients are invited to post glowing reviews on Google and Facebook.
Zipwhip
Zipwhip empowers businesses to connect with their clients in the most effective (and preferred) way possible—text messaging. Zipwhip text-enables your existing business landline, VoIP, or toll-free number and provides intuitive, cloud-based software, so you can securely and reliably reach your customers every time.
Bench
Bench is the easiest way for wellness entrepreneurs to get tidy books and accurate financial reporting. Bench is North America's largest bookkeeping service for small businesses. We give you an intuitive software to track your finances, and a team of bookkeepers to do your books. Includes tax season support.
Triptribe
Retreats generate revenue for studios and give clients an experience they'll associate with your brand. Trip Tribe makes retreats simple, with no risk, no deposit and little work. You'll diversify your income and build student loyalty for memberships and workshops.
iKizmet
iKizmet produces a visual business intelligence system designed specifically for fitness and wellness businesses. Our platform automates reporting and eliminates the headache of generating, gathering and assembling reports, so you can make better decisions about your business. We provide industry-best-practice dashboards and charts that assemble and compile a daily view of how well your business is doing.
Venga
Leveraging a two-way integration with MINDBODY, along with highly targeted and fully automated email/SMS campaigns, Venga empowers studios to:
Acquire new clients with a seamless referral program.
Convert clients to members through personalized package and membership recommendations.
Nurture authentic instructor and client relationships.
Collect actionable feedback with post-class surveys.
Celebrate client attendance milestones.
ActiveCampaign
ActiveCampaign uses applied intelligence. It's a system that lets you optimize conversations with your customers throughout their lifecycle, by providing the necessary tools for any class-based fitness location to manage the customer experience.
Emma
Emma's integration with MINDBODY syncs all of your member data so you can send your most targeted email. Our integration with MINDBODY syncs customer data, fields and client indexes from your MINDBODY account directly to Emma, allowing you to send more targeted and personalized email marketing to your clients.
BrandBot
Easily target the right people at the right time sending texts and emails based on their behaviors. Quickly create, schedule and send clean, professional and targeted emails, newsletters and social posts whenever you would like.
Core Health & Fitness
Core Health & Fitness is the world's fifth-largest manufacturer and distributor ofcommercial fitness products to gyms, health clubs and community recreational centers. Marketing its products underthe Star Trac®, StairMaster®, Schwinn® and Nautilus® brands, Core providesintelligently-designed, reliable fitness equipment and services in the cardio, HIIT, groupcycling and strength categories.
Trainerize
Trainerize combines online workout and nutrition tracking with meal planning, client communication, in-app payments and access to the world's best fitness add-ons, such as MINDBODY, MyFitnessPal, and FitBit. Fitness professionals can use Trainerize to boost client engagement and grow their businesses by tapping into the market of online training or adding hybrid training options to their current services.
First Credit Services
FCS delivers a professional and compliant collection solution, which health and wellness businesses can rely on for added revenue, without alienating a single past-due member. Currently representing over 45,000 membership-based businesses, FCS offers innovative software that allows past-due members to flow seamlessly to collections, so health club owners can focus on providing a positive experience for each of its members.
QuickerNotes
QuickerNotes software is a robust set of tools for creating SOAP notes for your clients. The software integrates with MINDBODY to pull client and appointment data so you avoid duplicate data entry. Features include note templates, an all-in-one overview of client note history, memberships, staff notes and alerts, document and image uploads and past note copying
SpaceCraft
SpaceCraft's fitness website templates come pre-configured with MINDBODY branded web tools and allow your customers to access your website and schedule on the go, from any device. Our intuitive content management system lets you customize your fitness website design and manage your content without touching a single line of code.
YogaBaron
Yoga Baron's aim is to provide timely information for yoga studio owners to best market their businesses online and attract new students. The YogaBaron blog focuses on starting, building and running a yoga studio.
SpaFinder
Millions of people find inspiration to keep well every day via the Spafinder Wellness 365™ brand, also known for its widely-distributed gift cards, available at 70,000+ retailers worldwide. As a MINDBODY customer, you are automatically opted in to the Spafinder Wellness 365™ Gift Card program. The redemption feature is already working—your point-of-sale screen now includes a place to enter Spafinder Wellness 365™ Gift Cards.
Sweti
SWETI is a service-oriented marketing team built just for your fitness studio. Your business thrives on getting new leads, whether from customer referrals, online searches, social media engagement, offer cards, special events and even online advertising. SWETI can help you make all of this work. The creative juice, the professional copy, the perfect graphic design and the optimization machine—that's what SWETI provides.
LoyalSnap
Loyalsnap helps convert new clients to members (8-12% increased retention), minimize client cancellations (by 5-18%), and capitalize on upsell opportunities at the right time.
Our full integration with MINDBODY and our intuitive, automated emails and text messages— based on client activity—help you put relevant offers and follow-ups in front of your clients at the right time.
FronDeskAi
With FrontdeskAI, your customers can reach your business 24/7 to:
Ask questions
Modify appointments
Sign up for classes
Notify specific staff members
Redeem promotions
Apiant
APIANT makes it easy to connect MINDBODY to your favorite apps. As a certified integrator, APIANT has pre-built templates you can install in less than 90 seconds to integrate MINDBODY with HubSpot, Salesforce, Ontraport, ClinchPad, Base CRM, ActiveCampaign, Contactually, JotForm, AWeber, MailChimp, Stripe, Google Contacts, and many other apps.
BirdEye
In today's digitally connected world, BirdEye lets you use customer feedback to make your business easy to find and convenient to choose. BirdEye enables you to send fully automated review requests to your customers and integrate seamlessly with your CRM. With customizable timing, branding, and content, you can get new reviews from your customers on sites like Google and Facebook without lifting a finger.
Cazoomi
yncApps® is the easiest, fastest way to synchronize MINDBODY with your other software applications, without breaking the bank. Once available only to Fortune 1000 companies and large studios or gyms, our integration platform empowers your MINDBODY software to automatically integrate with other applications, all for less than the price of a gym subscription.
Customer Screen Digital Signage
Customer Screen is an affordable cloud digital signage platform that runs on any TV or projector. All you need is an Amazon Fire Stick ($30-$40) and WiFi. Integration with MINDBODY allows you to instantly display your auto-updating class schedule, packages, and services. Additional modules and widgets include Instagram feed, marketing and product showcases, item boards, image slideshows, and videos. Available layouts include full-screen and two-panel and three-panel split.
FitGrid
FitGrid helps studios empower the largest part of their workforce to positively represent their brand and deepen client connections. The FitGrid system consists of an instructor-oriented mobile app , which delivers critical information to your instructors and allows rapid follow-up messaging. The studio-oriented admin dashboard provides business intelligence insights about the effectiveness of your instructors' efforts.
FitReserve
The FitReserve integration with MINDBODY provides real-time scheduling and reservations with no extra work for your staff, and no listing fees for your studio. Currently partnered with top studios in the New York City, Boston and Washington, DC metro areas, FitReserve will be expanding to new markets soon.
KeeperInsights
Integrated with Booker, Keeper Insights is a turn-key business intelligence solution and Key Performance Indicator (KPI) program. Our platform visualizes your true business performance in a format that allows you to quickly identify trends. We deliver your critical numbers so you can easily prepare for team meetings, set goals, and communicate progress.
MBPlugins
MBPLUGINS offers local payment solutions for businesses within the Netherlands, enabling your customers to pay with the local payment solution of their country, namely iDeal.
NamasteLight
NamasteLight's email marketing and automation for yoga studios syncs customer data, fields, and client indexes with your MINDBODY account. With the industry's most comprehensive automated client retention package, our team customizes your new client, milestone, and win-back campaigns with your studio's unique brand and voice.
O2M StudioTools
Our software was built by studio owners, for studio owners. We process cancelation fees automatically, allowing you to focus on tasks that matter, like running and growing your business. Our software incentivizes your members to make sure that when they need to cancel, they do it early—so you can fill that spot and increase your revenue.
PresenceAI
With Presence AI, you become instantly available 24/7 over text messaging using your existing landline phone number (or a new dedicated texting number). Presence AI answers customers instantly, making their experience a great one every time. In fact, the average customer response rate with Presence AI is above 85%.
Referizer
Increase your customer retention by 36%
Boost your Google, Yelp, and Facebook reviews by 300%
Automate your email marketing strategy with our pre-made campaigns
Get at least 4-10x more customer referrals using our automated referral system
Eliminate slow days with our text marketing campaigns
Communicate with your members using our Smart Social WiFi feature
Track, save, and record every inbound call using our call tracking app
Capture leads using our SEO-friendly landing pages
RiG-London
RIG is an iPhone app that connects users to nearby boutique fitness classes in London. Fully integrated with MINDBODY, we bring thousands of weekly workouts to our community and new customers in studio doors. Users can book classes on a pay-as-you-go basis, with dynamically priced rates set by your studio—to fill off-peak slots, increase revenue, and keep clients coming back.
RXPhoto
RxPhoto helps medical practices capture, manage and store high-quality and consistent before and after photos in a repeatable process. We help dermatology, aesthetics, plastic surgery, vein treatment, medical spa and wound care clinics use those photos to convert consultations to procedures and cross-sell aesthetic products and procedures.
Quote.Stock.Sell.
Quote Stock Sell provides hosted connector services to upload your MINDBODY sales data to cloud-based accounting software.
Spivi
Spivi is an interactive multimedia platform made for fitness clubs and indoor cycling studios. First, it collects data such as power, cadence, speed, distance, and heart rate from sensors. Then, it combines that data with personal information stored in the cloud, such as age, weight, and performance history. Finally, it generates virtually unlimited visuals, including unique group simulation, leaderboards, videos, and more—all in real-time.
Unapp
Unapp is a new type of app to improve your booking experience, retain customers, and increase attendance. And, Unapp is fully integrated with MINDBODY, down to storing credit cards directly with your studio. Unapp is like lots of custom apps wrapped into one, aggregating many MINDBODY-based studios (and more) in one consumer app.
CloudDoc/WaiverMaster
Waiver Master is an affordable cloud document management platform that allows your customers to fill out and/or sign various forms, waivers, membership contracts, policies, and other documents. All submissions and customer data are stored securely in the cloud, so you can view, export, and search them at any time from an online dashboard.
Weave
Our unique platform provides your business with a digital phone service that eliminates your current phone bill, and a software platform that gives your team an experience that feels as effortless and efficient as a smartphone.
VivaSpot
Quickly convert your WiFi network into an automated marketing machine that builds customer profiles, drives repeat bookings and increases your profits. With VivaSpot, you can easily collect customer information, reward customers, gather feedback, increase social visibility and cross-promote offers, events and mobile application downloads.
Wellbeats
Wellbeats is the on-demand fitness program that lets people work out however, whenever, and wherever they like. Our goal-based workout plans, fitness assessments, and 400+ classes are led by highly certified, relatable instructors. Seamlessly integrated with FitMetrix, Wellbeats' comprehensive app technology delivers a personalized fitness experience based on clients' interests.
Zeezor
look up key metrics at the national, local, and stylist level, set up goals and contests, use data visualization to help better coach staff, compare your business to industry benchmarks via ZeeZor Stack-Up, and engage with users via phone or text messages.
Nift Network
Nift brings in customers who sign up for more classes, purchase memberships, and become loyal clients. By only bringing in customers in your area—and people we know are a great fit for what you do—we make sure your business becomes a part of their fitness routine. Just tell us what kind of client you want to welcome, set a budget, and watch Nift work.
Yombu
Yombu allows you to fully customize your client onboarding process and (finally) go completely paperless. Using our native iOS and Android apps, or white-labeled web version, your client intake can be elegant, fast, and accurate.
SalonClouds
SalonClouds+ builds custom report dashboards, intake forms, check-in kiosks, custom apps and websites with online booking, e-commerce, IOTs, and marketing tools that are tailored to your branding and business.
– Developing Workouts
MindBody software does not contain a workout program template, but that isn't necessarily a bad thing. Most trainers and businesses want to drive traffic and generate sales, which is what happens BEFORE clients are signed.
There are very few workout template creation apps in general, because every trainer is different, and there are a lot of trainers out there with a LOT of different templates.
– Point of Sale
The software allows for purchases to be made in two different ways; through a "walk-in" sale and also with a "client" sale. A walk-in sale is categorized as any sale made without it being attached to a "client."
The client sale is just that, a sale with a product attached to a client, either through a membership sale or tracking the products that each specific client purchases.
Let the team at Exercise.com show you how to grow and manage your fitness business better!
Who Uses MindBody?
– Market/Target Positioning
MindBody fitness software is structured to best help small to mid-sized businesses, making it a great solution for gyms, fitness studios, and personal training centers along with salons, spas, massage and wellness centers, yoga studios and dance schools.
– User Perspective
MindBody software is highly rated with thousands of reviews on Google, Yelp, Facebook and several review sites. Here's a brief look at the statistics:

662 five-star ratings out of almost 1500 reviews with the four-star reviews at almost 400 means a lot of happy business clients.  Taking into account the cost of the MindBody software, the question changes from whether it fits the need for your business to: "Will MindBody software be a good investment for my business?"
And another review sheet:

Here are what some MindBody business owners had to say about their favorite features in the MindBody software:
Many of the cons in the MindBody reviews centered around payment processing options, the clunkiness of the software, and functionality.
Many reviewers love the MindBody app and their customer service team but the overall consensus is that MindBody although having a lot of features was hard to navigate, had a steep learning curve, and wasn't functioning up to par with expectations for the price.
Clunkiness is always a result of software trying to cover too many bases with one trip. Whereas some software has its own niche(i.e. VirtuaGym, the software application that does include a Workout Builder Template which they are upgrading), MindBody aims to cover everything and be a one-stop shop for fitness business software.
– Pricing
Earlier we covered the basic features in Essential and went over the additional features offered in the Ultimate version.  The pricing changes dramatically from Essential to Ultimate but comes with a free trial so a business owner can find out if the application is for them or not.
With each tier for pricing comes upgrades, as we saw in the features section, where we listed a comprehensive table showing almost exactly what each business owner has access to at each tier, but here is a more simple breakdown (see table above).
If you do not think your business needs the investment of a system you will want to work and learn with over time, MindBody may not be the fit, but it remains one of the top fitness club management systems for a reason.
And while not everyone needs a custom-designed mobile app especially in the franchise industry, the MindBody price is still comparative across the market with its subscription competitors.
Top Direct Competitors
Below is a list of MindBody's top ten competitors and general price range. There were only a few that did not have their prices available to the public, and most did include live demos and or free trials with their products.
In the growing industry of fitness and wellness comes new competitors, and with those competitors come new ideas for gyms to garner attention and interest from seeking consumers.
Regardless, from 9Round(a franchise kickboxing circuit gym) to OrangeTheory(HIIT strength and cardiovascular training), local Crossfit gyms, Glutelabs and a plethora of other specialty facilities, there is a software for every type of business.
The Bottom Line
MindBody seeks to impress by offering a wide range of capabilities and services at a price more towards the higher end of the spectrum in comparison to their top competition.
Being in business for a good chunk of time, especially in such a growing industry as the health and wellness space, allows for a company to not only gain a foothold, but grow its business so that it can have more money, and with that money develop better programs.
With a massive features list, it remains a fact that if MindBody can't provide what you are looking for, there is probably an add-on application in the Partner Marketplace – whether it's free or will be another additional cost to you, well, that you'll have to take a chance on –  that can complete the task that the business owner wants finished.
Most of the marketing and branding tools are available in the customized MindBody websites that come with the higher tier pricing.
These invaluable resources that save you time and energy have been shown to increase business, but again, every business owner is just a little bit different, though driving sales is a key factor in staying in business.
Overall, it seemed that most of the customers were happy with their purchase and use of the MindBody fitness software, regardless of the price, however, clunkiness with the application did seem to be the major issue if one had to be brought up.
The last thing any gym needs for fast training of associates and a smooth membership application process is a slow, clunky dashboard that takes forever to load.
MindBody has a great reputation and its pricing only invites the serious business owners really looking to invest and expand.
Some apps are only good for small to mid-size businesses, so growing out of a system might be inevitable if business heads in the right direction, but because MindBody services large fitness and wellness businesses the owner of the software would never have to worry about switching over to something different.
[ad_2]

Source link
Tagged:
MindBody
Review