Trainerize Review [Everything You Need to Know]
[ad_1]

Get the Basics…
Trainerize is a web-based workout tracking software used primarily for online personal training.
It's most valuable feature is a flexible workout creation system which can organize almost any workout a trainer can imagine.
Along with 30 days of unlimited use in the trial period, the most basic version of Trainerize can be used forever at no cost.
The digital age has taken many experiences and services online that were once limited to physical interaction in the customer's local area. Personal training is no exception and while it may not have been the first field to take advantage of the possibilities of this era, online training and consulting are now a huge segment of the fitness industry.
Its meteoric rise in popularity owes mainly to the additional opportunities and convenience it provides both clients and trainers:
Whereas a client seeking a personal trainer was once limited to those within the distance they could drive, he or she now has access to some of the best in the world with no geographic constraints.
While a trainer once struggled to fill unpopular workout times, sometimes even discounting their services to do so, they can now use such times to interact with clients remotely, create training programs, and check up on clients' progress.
Gone are the days when online training pioneers were obligated to use a complex, self-invented web of organization to manage all the tasks related to remote training: a website to advertise their service, Skype to talk to clients, Paypal to collect payments, emailing clients their workouts, and innumerable spreadsheets for tracking business and workout data.
The growth of the field has brought a variety of useful solutions in the form of software platforms that streamline all these tasks (and more) by combining them in one highly efficient system. One such product is Trainerize and in this review, I'll cover everything you need to know about this popular tool for personal training.
Company Overview
Trainerize is a software company founded in 2012 and located in Vancouver, British Columbia. According to the most recent available data, their software is utilized by 75,000 gyms and independent trainers.
While that figure represents the number of direct subscribers to the service, Trainerize further estimates that an additional 300,000 people use the platform as clients of those gyms and trainers.
According to business information resource Owler.com, Trainerize has approximately 185 employees and generates $3.5 Million in annual revenue.

Features Overview
–Custom-branded Web & Smartphone Apps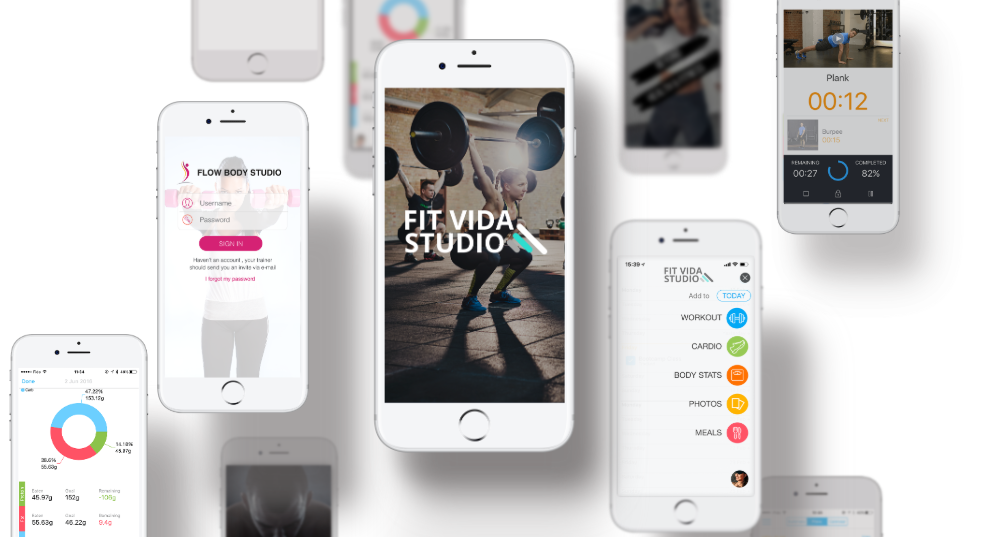 With its primary function of connecting trainers with clients remotely, Trainerize relies heavily on its mobile apps. The recommended best practice for utilizing the software effectively is you, as the trainer, access the full version via laptop or desktop computer while clients make use of the app exclusively to log their workouts.
While trainers may log in through the mobile app to view client data and even build/adjust workouts, the full array of capabilities and intuitive design of the full browser version absolutely make it the best option.
Though Trainerize offers custom-branding of its app, a certain caveat should be pointed out:
Even after purchasing the one-time customization setup fee of $99, your clients will not immediately see the app as yours. They will still need to search for and download the "Fitness App (by Trainerize)" and only after logging in will they be identified as your customer and shown your customizations.
After having logged in for the first time, clients should permanently see your chosen app icon and your logo on the loading screen and header. This is essentially the full extent of the custom-branding as all interactive portions of the app will keep the default appearance and function of the basic Trainerize app.
While the Trainerize app is known for ease-of-use and a clean user-interface, it has a bad reputation concerning bugs and crashes. Trainers and clients alike report common problems when inputting workout information. Trainerize updates the app frequently to combat this issue but new ones seem to pop up as fast as others are fixed.
A unique and interesting bonus to using Trainerize is getting a free, customizable website linked to your service. While Trainerize remains evident in the domain name(your company.trainerize.com) and page templates are pre-set, this site actually offers a decent amount of autonomy in design.
What can you do in the custom site?
Upload your choice of images
Create pages for any information you'd like to include. About, Testimonials, Programs, and Pricing are commonly used.
Add widgets to accept payments and share your training schedule.
Note that even after being customized, the page will still tend to appear very basic and generic to most visitors. Thus, an established company with an existing professionally-designed website may opt not to activate this feature.
Nonetheless, it offers perhaps the quickest and cheapest way for a new business or individual to get online and begin promoting their service when they are just getting started.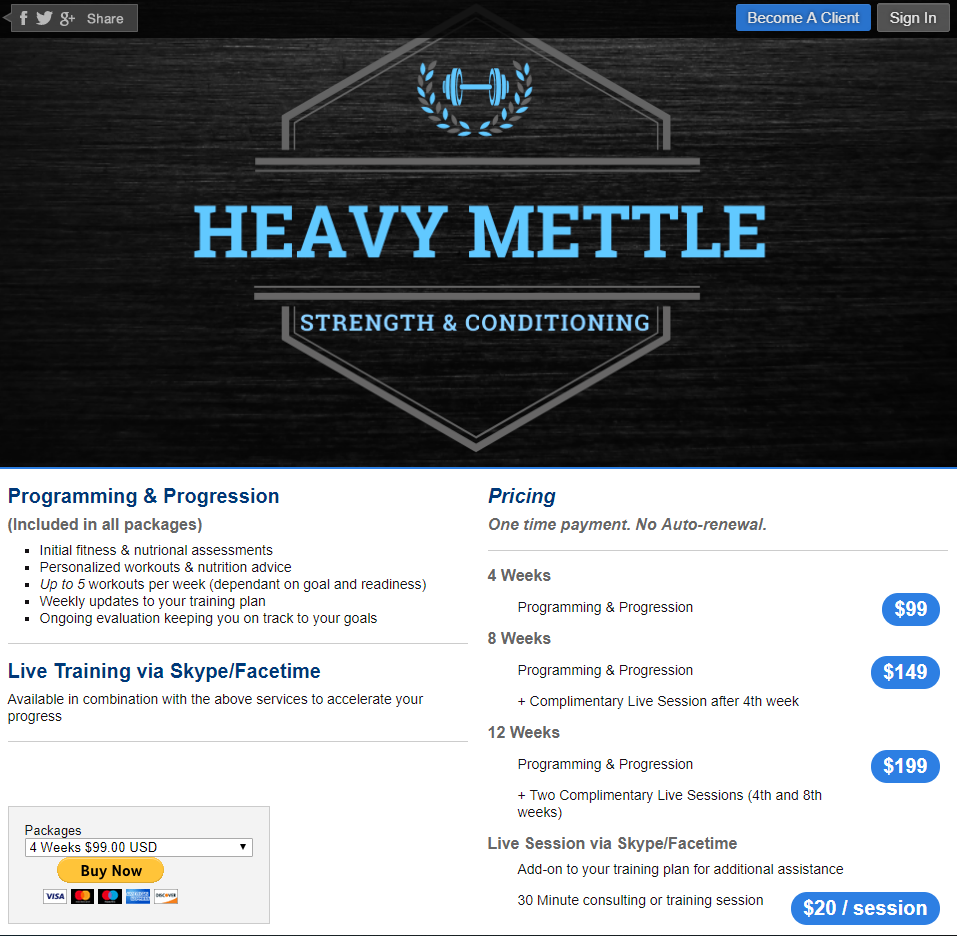 Surprisingly, Trainerize does not place much emphasis on this feature in its advertising or make it apparent to new subscribers right away. Dig into Settings > Web Address > Your Trainerize Address to access the site designer.
–Workout Creation
As a personal training focused platform, how workouts are built and distributed to clients may be the most important factor of all in judging overall quality. On this feature, Trainerize does not disappoint.
This software boasts one of the most powerful and flexible workout creation systems available anywhere and enables trainers to build nearly any workout they can imagine. Before we get ahead of ourselves though, let's look at the overall structure of how it operates:
Any serious professional knows that workouts should not be stand-alone events but part of a larger program aimed at a defined goal. Trainer's will, therefore, appreciate that Trainerize works the same way; beginning at the level of the program then building the individual workouts that make it up.
You the trainer will first determine the broad purpose of the current training cycle and how long you want it to last. Trainerize calls this the "training plan". You can give it a unique name, as in the example below, or be more technical and name it by the primary fitness components you're targetting such as "Beginner Strength" or "12-Week Hypertrophy".
You'll then create individual workouts to be nested under the training plan. For my sample strength training program "Pick up Heavy Things", you'll notice there are two workouts in the plan "Lifting-Lower" and "Lifting-Upper" and the summary describes how the client will implement the two.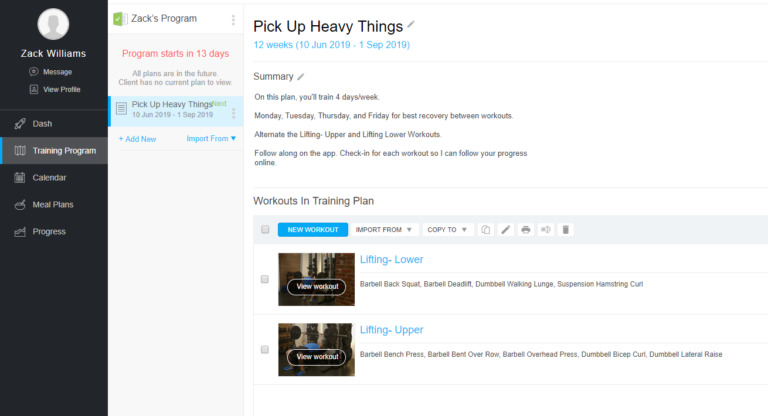 The nuts and bolts of designing a workout are very simple. You can use the extensive exercise library which can be searched by exercise name directly or sorted by equipment, target muscle group, etc. Alternatively, you may opt to add custom exercises and, during their creation, fill in all the details like tags to make them easy to find later in the library.
When adding an exercise from the library, Trainerize automatically includes their brief instructional video of the movement.
But here's the issue with the built-in videos:
The technique demonstrated and described by the Trainerize staff actors/models just isn't very good. For many videos, particularly those for weight training, it appeared the model had little or no experience in the movement prior to the demonstration. Certainly, he did not have the proficiency to be used as an example of how these movements are performed.
In skimming through the library and in searching for particular movements, I determined that most videos were subpar for what I would want to show a client. If you are like me, a specialist in a specific mode of training, you will probably prefer to utilize the option to insert a better video from YouTube or upload your own when putting those exercises in a workout.
Videos aside, the robust library of exercises serves well in making it easy to create workouts within the training plan.
–Workout Delivery
When a trainer makes any change in a client's account in Trainerize, the client is notified and can immediately enter the software and view the new program, workout, or notes that have been added.
Though clients can access the software through a desktop browser, they should predominantly utilize the mobile app for one simple reason:
Taking their workout log with them to the gym to be viewed and updated as they train. This ensures more accurate data is put in by the client and that they closely adhere to the instructions given by their trainer.
Another benefit is the ability to view the attached instructional videos that accompany each exercise in case they need a quick refresher just before their set.
For trainers, the mobile delivery and logging of workouts provide the opportunity to keep up with clients' program compliance. By default, trainers are automatically notified when a client performs their workout or fails to complete it on the scheduled day.
Particularly when a workout is missed, you should reach out to the client to get them back on track. Doing so not only pushes them toward achievement of their goals, it demonstrates your attentiveness and improves their perception of your level of customer service.
As the client progresses, they build a compliance score which rates how well they follow the prescribed training program. Trainerize tracks this score over time so you can see trends over time and use this data to advise the client and make decisions about changes to their training.
You may, for example, notice that the last week of every month is when your client has the lowest compliance. After bringing this up to the client, you learn that their job involves monthly deadlines with a lot of extra hours and added stress at the end of each month. In the future, you'll plan for workouts that week to be fewer or shorter to accommodate their work-life balance.
–Nutrition Plan Delivery
When it comes to creating a client's nutrition plan and monitoring their successful implementation of it, Trainerize offers two methods of doing so.
Manual creation in the app and tracking with MyFitnessPal:
In Trainerize, select the client and navigate to the Goals tab on their profile. Here you'll input daily goals like total calories and macronutrient targets. Your client will be sent a notification to connect their existing MyFitnessPal account or set one up.
As they input their food in MyFitnessPal each day, Trainerize will automatically sync to the food log and tell you if they're on track.
If you use this method and want to provide a specific meal plan to the client, you'll simply upload a PDF document you've created with the plan and the client can view it within Trainerize.
Evolution Nutrition Integration:
If you subscribe to Evolution Nutrition for an additional fee, you can sync your Trainerize clients with their software and use it for setting goals, delivering a meal plan, and letting them track their food.
Those three steps are all performed within EN and the integration with Trainerize allows both you and the client to see metrics on how well they complied with the plan.
Both of these options for delivering a plan and seeing the results are seamlessly integrated with the client's dashboard making it incredibly simple to monitor your client without having to leave the Trainerize app.
–E-Commerce/POS
Trainerize enables its users to sell their services and downloadable products like e-books directly through the software.
Create your menu of offerings on an external business website, your Trainerize.me page, or even your social media page by way of the optional Facebook integration.
While those encompass all you need to do business online, you may also manually input sales and take payment in your account. When utilizing Trainerize with in-person clients, this is likely the go-to option.
Now for the specifics on how the billing system, Trainerize Pay, works:
After adding your products and training packages and listing them on your website or Facebook page, you'll need to activate payment processing. It's as simple as entering the Payments Setup menu and selecting GO LIVE. 
Payment processing in Trainerize Pay is powered by Stripe and entails a flat monthly fee as well as amount-based transaction fees. The monthly fee of $7.00 is charged as long as your payment account is live, even if you have no transactions for the month. Pretty simple right? Transaction fees are where it gets a little trickier but your rates are must-have information!
How transaction fees work:
Domestic (US) credit and debit cards

Stripe charges 3.15% of the amount plus 30 ¢ per transaction.
Example: A client pays $100. Subtract ($3.15 + 0.30). Amount you receive: $96.55

International credit and debit cards

Stripe charges 4.15% of the amount plus 30 ¢ per transaction.
Example: A client pays $100. Subtract ($4.15 + 0.30). Amount you receive: $95.55

Transaction fees are removed from the total before the balance is paid out to you.
While more favorable fee structures in the 2-3 percent range are certainly available from other processors, you can't beat the simplicity of onboard payment processing with no manual set-up aside from entering your bank account information.
–Client Engagement
The many convenient ways to interact with your clients via Trainerize are an impressive feature of the platform.
Once a client has been onboarded into the system, the trainer can handle all interaction through Trainerize without the need for off-platform emails, calls, or video chat. This is due to the complete array of communication options built into the app.
You can use the in-app messenger to check-in with clients or start a video chat using the built-in access to Skype or appear.in. Not only are these great time-saving features, but they'll also help you maintain privacy and keep your work and personal communications separate.
Trainerize also offers a feature advertised to help you acquire clients through a profile on their public-facing trainer search site, Trainerize.me. Your listing here can be found by prospective customers who search for you directly or by location or training specialty.
Trainerize.me is a neat bonus that takes very little time to set up but its value for actually obtaining new clients is questionable. Most of the public will simply not be aware of the Trainerize platform until already they become a client of a trainer who uses it. There is no reason to believe they will find and choose to utilize this site over Facebook or Google.
A final form of client engagement is automated communications via email and in-app messages. I'll detail how you can utilize this feature in the next section.
–Automation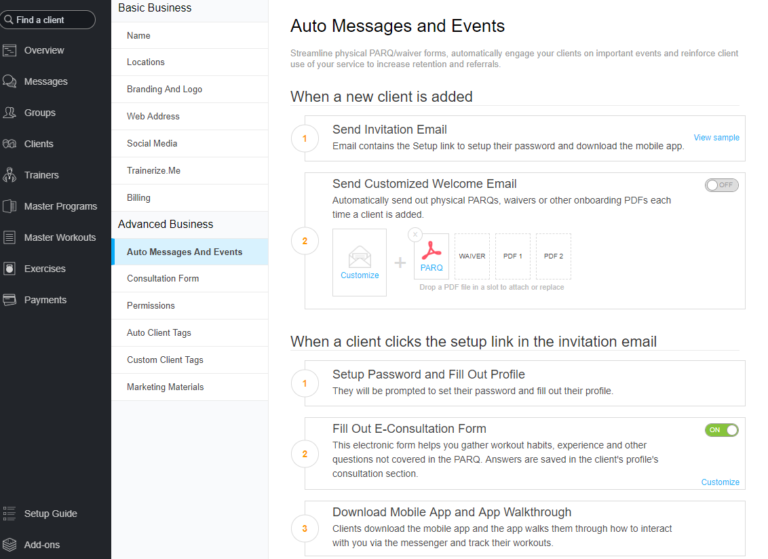 Trainerize features an impressive range of automations designed to keep your clients on track and help your business run smoothly.
In account setup, users can have Trainerize automatically message clients when triggered by specific events. When you add a new client, they'll automatically receive a welcome email which invites them to create their Trainerize account and download the app.
You can also have customized documents sent to clients such as waiver forms and other onboarding materials.
Throughout their participation in your service, clients will receive in-app messages to remind them of scheduled workouts and congratulate them on completion of goals.
By customizing these messages, you can enhance the perception of quality in your service without the effort of sending clients hundreds of individual texts and emails.
These provide a great opportunity to spend more time focusing on their clients' workouts and less on manual office tasks. It's all about efficiency.
Let the team at Exercise.com show you how to grow and manage your fitness business better!
Who is this fitness software for?
–Target Market / Positioning
Trainerize advertises its software to independent trainers and fitness clubs. According to the company, they provide an "all-in-one member engagement platform for personal training, small group training, online challenges, and online training."
From examination of their marketing and experimentation in the software itself, it's clear that the primary target is fitness trainers who provide remote services via the web. Think about it:
For in-person training, many of the Trainerize platform's features are superfluous. When a client is observed by their trainer for every set, there's simply no need for them to log their performance in their smartphone as there is with remote training. Nor would either party need the communication features like Skype calling to interact with each other.
Perhaps there is a use for software like Trainerize in a brick-and-mortar gym providing a hybrid service between open gym access and true one-on-one coaching but by far the greatest value is in web-based services for which Trainerize covers all the necessities.
–User Perspective
Trainerize has a solid reputation with positive ratings from the well-known review sites Capterra (4.5 / 5), GetApp (4.6 / 5), and Finances Online (8.7 / 10).
Subscribers gave it, on average, 4.5 out of 5 stars in Value for the Money, Features, Ease of Use, and Customer Support. 

Many positive reviews mention the intuitive workout creation system and the convenience of being able to integrate communication and nutrition tools with the app.
On the other hand, one can find numerous mentions of bugs (particularly when used on Android devices) and claims that while tech support is friendly and responsive, they often can't provide resolution when problems arise.
–Pricing
Trainerize determines the cost of your subscription on the basis of how many clients you'll manage through the platform and your choice of paying on a month-to-month or annual schedule:
| Client # | 1 | 2 | 5 | 15 | 30 | 50 | 75 | 100 | 200 | Unlimited |
| --- | --- | --- | --- | --- | --- | --- | --- | --- | --- | --- |
| Monthly | $0 | $5 | $20 | $40 | $60 | $90 | $125 | $160 | $200 | $300 |
| Yearly | $0 | $4.50 | $18 | $36 | $54 | $81 | $112.50 | $144 | $180 | $270 |
While so many tiers may make Trainerize's pricing structure seem overly complex, here are the benefits:
The broad distribution of volume-based tiers makes it appropriate, at least where cost is concerned, for a lot more trainers than most software options on the market. The inexpensive, low-volume options make this model great for trainers who have few clients because they're either just getting their start or they do personal training as a side gig.
Additionally, Trainerize doesn't require any manual update or re-subscription to the service as you gain clients and move up the price tiers. The software will automatically update your service as needed when you add clients.
–Trial and Setup
Trainerize offers a generous 30-day trial of its software with unlimited access to all features and no cap on how many clients you can add to your account. You can begin this trial without submitting payment information or committing to a subscription after the 30 days are up.
For the trial period and in general, Trainerize is a low touch software in which users will learn on their own or from tutorials without interacting with sales representatives. However, if you do need in-depth help, support is available by submitting a help ticket or calling their technical support phone line.
In addition to the 30-day unlimited trial, the free version of Trainerize which supports just one client is a great way to continue experimenting with the software if you're still unsure whether or not it's right for you.
–Benefits
Workout builder: Create workouts from a huge library of exercises or input your own and deliver them to clients.
Create goals and track progress: Give each client personal measures of success and view trends over time as your clients record their efforts.
Monitor your clients: View and analyze performance data, before-and-after photos, body measurements, and nutrition.
Promote and sell your products: Use your own website or social media to advertise and close sales within Trainerize.
Integrate with other popular services: Use MyFitnessPal, MindBody, and Skype in tandem with Trainerize for an all-in-one experience.
Top Direct Competitors
In the web-based training software category, Trainerize's biggest competition comes from these companies:
Exercise.com, the only software offering complete custom-branding for your business's online platform and mobile apps.
TrueCoach, which has many features to match those offered by Trainerize but a slightly higher cost per client and fewer integration options.
TotalCoaching, a workout building and delivery software with a higher cost per client but lacking major features like electronic payments and custom-branding.
Frequently Asked Questions (FAQs)
Q: How much does Trainerize cost?
A: Trainerize charges based on how many clients you manage in their software. Price ranges from $20/month for a few clients to $300/month for unlimited clients.
Q: How much do trainers charge in Trainerize?
A: Trainers can charge anything they deem appropriate for their services, Trainerize has no minimum or maximum amount.
Q: How can Trainerize help users personalize service to their clients?
A: Customizing the app with your brand and modifying the various automated messages and the best ways to give Trainerize a higher quality, personalized feel to your clients.
Q: What integrations are available for Trainerize?
A: Trainerize can connect to MindBody, MyFitnessPal, EvolutionNutrition, Mailchimp, Facebook, Skype, Appear.in, and your personal website.
Q: What problems can the software solve for trainers?
A: Trainerize helps bring separate channels of workout delivery, communication, and billing together in one streamlined system.
Q: Can this help me if I train clients in multiple locations?
A: Yes, you can keep all your clients' data in a single account. There's no need to distinguish the physical location of a client since everything is managed via the web.
Q: Should I use the pre-made programs in Trainerize?
A: Though pre-made programs can save you time, it could reflect poorly on your business to use generic templates if your clients expect personalized service. Make sure what you provide to clients matches what you advertise.
Q: Should I already have clients before I start using the software?
A: You can start using it with no clients or just a few at a very low cost. It's a great opportunity to learn how the software works with little upfront investment.
Q: Should I use this in my brick and mortar business?
A: Certain gyms that offer personalized programming but not necessarily one-on-one guidance would be a good match for this software. Additionally, trainers may use the software to track everything for their clients without client input. 
Q: What smartphones are compatible with the Trainerize app?
A: Any iOS device with iOS 8.0 or later. Android devices with version 5.0 or later.

The Bottom Line
In addition to covering the basic expectations of a personal training software, Trainerize comes through with some surprising extras that can help expand the fitness pro's offerings and impress their clients.
From a technical standpoint, Trainerize does have a few wrinkles to iron out to improve the reliability of its mobile apps which are heavily used by clients for workout tracking and communication.
For trainers looking to expand their in-person services to include training clients online or make remote training the crux of their business, Trainerize should definitely be on the shortlist of software to consider.
[ad_2]

Source link
Tagged:
Review
Trainerize